2020's pandemic forced the entire nation to be on lockdown, non-essential services like museums, tourist attractions and even eateries were forced to shut down. Singaporeans were stuck with either doing home-based workouts, or taking strolls with their masks on in the nearby park connector. Needless to say, visitorship to the museum dropped to an all-time low. 
So how do we make sure that our museum objects don't become forgotten artefacts?
Together with National Museum Singapore, we gave museum goers a chance to interact and have conversations with museum artefacts in the comfort of their own home using a platform that they're familiar with - zoom. With local improv actors and comedians, we brought artefacts to live.
Having to tell stories of the artefacts that are as old as 200 years old (Singapore Stone), our visual style had to be flexible enough to transcend time. 
Over the course of 2 weeks, we hosted 8 live sessions with 8 different artistes including renowned actresses Tan Kheng Hua and Janice Koh from Crazy Rich Asians, local host Hossan Leong and local comedians Rishi, Fakkah Fuzz and Jackie Ng.
Because the session runs during Singapore's National Day, we were also invited to join Mdm President Halimah Yacob in Singapore's first virtual Istana Open House. Our Government House Cheese Plate got a chance to interact with Mdm President herself and even got to sing her a

cheesy song

.
Participants were allowed to ask artefacts questions and interact with them during the live sessions. We got questions from individuals and families asking various history-related questions, size of the artefact, and even getting our artefacts to sing them National Day songs.
Because it's a live event, we had to improvise on the script and the visuals accompanying it as the show went along. Animating everything on keynote made it a lot easier to shift elements around and adding new stories and visuals to help tell the story better.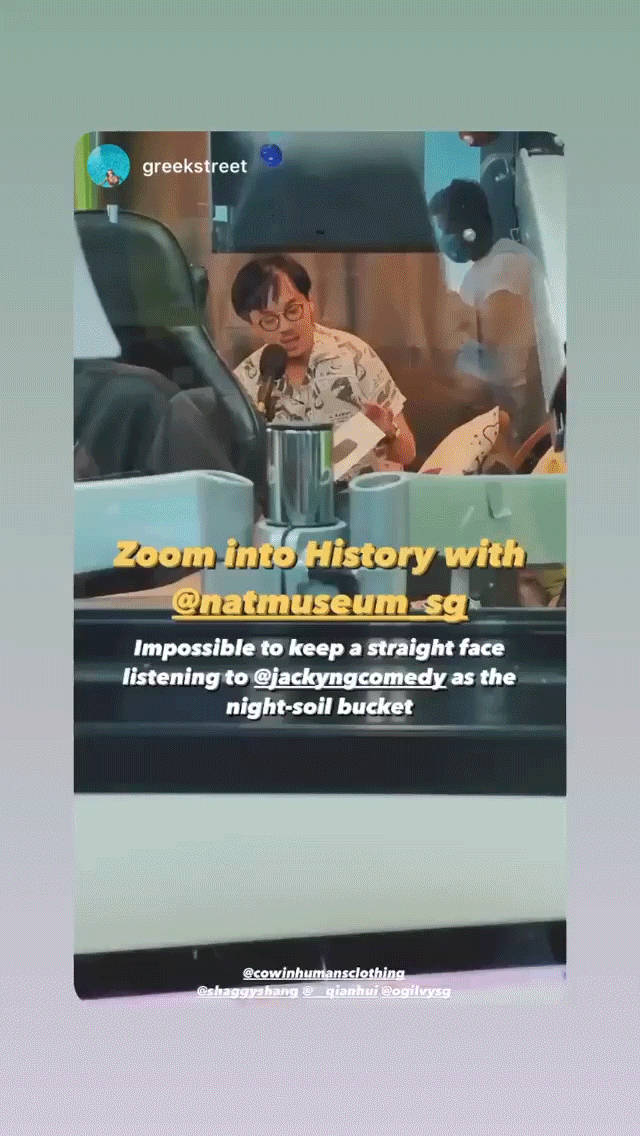 Creative Director:

Loo Yong Ping
Copywriter

: Shanghao Chen
Junior Art Director:

Qian Hui